Overview
Employee engagement is the latest buzzword in the corporate world as companies begin to look beyond job satisfaction. Business leaders and HR managers are now seen constantly brainstorming to come up with unique ideas to engage employees at work. In fact, a large part of boardroom discussions in contemporary times is now being dedicated to discussing employee engagement ideas and virtual team engagement strategies. It is smart of organizations to acknowledge and realize the significance of cultivating high employee engagement in these highly competitive times.
Table of Content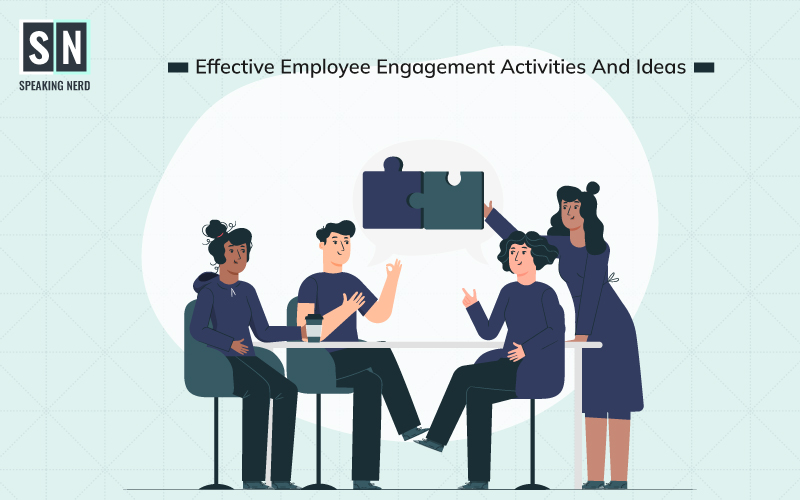 However, coming up with promising and effective employee engagement ideas and activities is not something that is a cakewalk. Had that been the case, the employee engagement levels would have been much higher and reassuring than what they are at present. Having said that, organizations need to be intelligent, flexible, and creative with their approaches to in-person as well as virtual employee engagement ideas.
For your convenience, we have compiled a thoughtful list of some fascinating, unique, and innovative employee engagement ideas for keeping in mind the latest corporate trends. Before we proceed with that, let us try to understand why employee engagement activities are quintessential.
Why are employee engagement activities essential?
Statistics speak for themselves and the following set of credible insights will give you a clear idea of why employee engagement activities are desired and quintessential. Let us analyze the employee engagement scenario in the contemporary corporate world with the help of the following statistics and trends.
As per the findings of Gallup, not more than 20 percent of the global workforce is engaged in the workplace.

Only 36 percent of employees in the United States of America are actively engaged in work while 15 percent of the US workforce is actively disengaged.

Speaking of millennials, only 29 percent of millennials report that they are actively engaged in the workplace. To add, as per Deloitte, 43 percent of millennials plan to leave their current jobs within 2 years.

As cited by Living Facts, millennials account for 35 percent of the workforce in the US forming the largest working generation in the country. By 2025, it is anticipated that 75 percent of the US workforce will be accounted for by millennials.

According to Cision, around 31 percent of employees are of the view that they only have average engagement levels in their current jobs.

As per a study by Gallup, business organizations that dwell on high employee engagement report higher profitability by 22 percent and higher productivity by 21 percent as compared to ventures that thrive on low employee engagement with no team engagement activities.

As revealed in the findings of a report by The Engagement Institute, US firms lose around USD 550 billion per year due to a lack of employee engagement ideas leading to massive disengagement in the workforce.

Vantage Circle concludes that 22 percent of remote workers find it hard to unplug after work and this challenge drives them towards disengagement.

It has been established that organizations with high employee engagement witness a 41 percent decline in absenteeism and an almost 60 percent downfall in employee turnover. These insights from Gallup make a strong case for working on ideas to engage employees at work.

Salesforce explains that 86 percent of employees and top executives are of the view that lack of communication and collaboration are among the key reasons for workplace failures. This finding underlines the lack of team engagement activities and team-building strategies within organizations.
As you can see, it is highly significant that employers and HR managers work on devising effective employee engagement strategies and team engagement ideas in the workplace. From driving higher profits, inspiring collaboration among co-workers, and boosting productivity to improving retention rates, employee engagement activities are salient to all verticals of business success.
What is worth noting here is that employee engagement levels have traditionally been low. Despite business organizations laying great emphasis on fostering a culture of employee engagement ideas and activities, they have not been able to achieve the desired results. The fact that only 20 percent of the global workforce is actively engaged as mentioned above paints quite a gloomy picture of employee engagement and workplace motivation. This also hints at the fact that the traditional employee engagement ideas or the ordinary strategies are rendering little or no benefits.
Having said that, the need of the hour is to think outside the box and look for unique and innovative ways to find new ideas to engage employees at work. Besides, in this new era where remote work, freelancing jobs, flexibility, and hybrid teams define the new normal, businesses also need to evolve and improvise on a host of virtual team engagement activities. In the subsequent sections, we look at the most rewarding, effective, and intriguing employee engagement activities. To make it more convenient for you, we have classified these team-building activities into in-person and virtual activities. So, let us get started and engage teams like never before!
In-person employee engagement activities to engage teams
This section highlights the most interesting, lucrative, and promising employee engagement activities for a traditional workplace culture wherein all or most employees physically attend the office.
1. Host brainstorming sessions
You have to keep getting the best out of your team on a consistent basis to drive greater business success. For that, you want your employees to be at the best of their cognitive abilities at all times to engage better. Having said that, hosting brainstorming sessions to discuss creativity, innovation and new ideas can be a great idea for engaging employees. Do you know that Steve Jobs loved going for a walk with his team to inspire and discuss organic new ideas? For sure, he believed in the power of brainstorming and we very well know how successful he was with his approaches.
On similar lines, you can host brainstorming sessions with your team members where you give them the complete freedom to be as creative and innovative as they want to. These sessions will give your team members a forum to express their creativity, ideas, and opinions. The mere fact that you are interested in their thoughts will enhance their engagement.
2. Introduce a power-nap culture
Can sleeping ever be art? In Japan, 'Inemuri' is the culture of taking power naps at work and they definitely think of it as art! We all know that stress is a major killer of motivation and engagement. At times, all that employees need is a small conduit to bust their stress, unplug from everything and rejuvenate themselves. Given that, power naps can be a great employee engagement idea.
Whenever you ponder on the question of how to improve employee engagement, you should also be thinking on the lines of how you can help your employees with stress management. For that, giving them the privilege to take one power nap in a day for half an hour during work hours can do the trick. This will give them a chance to reboot and come back stronger. Worth a try for sure, isn't it?
3. Organize sporting events
Employees bond the best either over food or team sports. They would love to pursue their sporting interests during their working hours, what say? To inspire greater team building and collaboration between team members, you can dedicate a certain part of a fixed working day to sports or games. What you can do is, keep 2 to 3 hours one day in a week for team sports like cricket, basketball, soccer, or even indoor team games.
The basic idea is to bring team members on the same page and create deep connections between them. If they can perform well together as a team in cricket or soccer, they will also do wonders working on projects. On this day that you are going to dedicate to sports, you can allow your employees to come to the office in sportswear. Or in case of extreme weather conditions, indoor games will be a great idea.
To make it more interesting and conducive for team building, you can make random teams rather than employees making teams with their own friends. The purpose is to help people blend and make them familiar with each other's strengths. Also, you can add refreshments and rewards to these sporting events and give them fancy names to build larger excitement.
4. Celebrate your people
Celebrating your people and their contributions in the workplace should be an everyday activity. It does not matter if these celebrations are fancy or modest. What matters is that it will promote a greater sense of belonging among employees. In fact, you will be glad to know that as cited by Deloitte, a greater sense of belonging can amplify job performance by 56 percent! Hence, make it a point that you celebrate your employees' achievements, birthdays, work anniversaries, and milestones in the workplace with great zeal.
When everyone celebrates and indulges in their co-workers' happiness, it will also foster overwhelming team-building sentiments. Everyone would love to be a part of such a vibrant work environment and needless to say, it will be highly engaging as well.
5. Incorporate reverse mentoring programs
Every organization should initiate excellent mentorship programs in the workplace. Mentoring activities or programs in themselves can prove to be amazing ideas to engage employees at work. This is for the simple reason that learning and development are among the key concerns of employees. When they get enough opportunities to learn and evolve their professional skills, they engage in an active manner.
Moreover, reverse mentoring programs can bring an even more interesting twist. We often perceive mentoring as seniors or executives mentoring their subordinates or younger professionals. How about the other way around? For sure the tech-savvy millennials and Gen Z workers will have a lot to teach to their seniors as well. Hence, reverse mentoring activities or programs can be fabulous in terms of changing the status quo and inspiring new levels of engagement.
6. Make room for office trips
Office trips once in a blue moon would do no harm, would they? Or if you do not want work to stop at any cost, you can have an office trip on one of the off days. Not many people will mind a pleasant change and going out with their colleagues. You can organize road trips and outings with your team members subject to weather conditions.
Having a good time away from work and discussing things beyond deadlines, projects, and work will be a pleasant opportunity for employees to get to know each other and foster positive relationships. In fact, as an employer, you too will find a good break from things and get the chance to bond well with your employees. Given that, you can try to organize office trips once every three to four months.
7. Candid discussions in coffee breaks
How about all team members take their coffee or high-tea break at the same time? Seems like an interesting employee engagement idea, isn't it? When everyone in the team breaks for coffee at the same time, they get the chance to have some candid and casual discussions about everything and anything. They can talk about movies, music, sports, reality shows, and anything that gives them a chance to take a break from work stress and refresh a little. In fact, whenever you are free, you too can join them!
These synchronized coffee breaks on a daily basis will promote team-building and cohesion between co-workers in a rejuvenating and charming way. As they say, "a lot can happen over a cup of coffee!"
8. Initiate a tradition of 'Employee of the Month'
If you are wondering how to improve employee engagement, you must know that employee recognition is one of the pivotal ways to foster active employee engagement. As revealed by HubSpot, 69 percent of corporate workers say that they will work much harder and will engage better if they are appreciated better. Having said that, you need to incorporate a robust culture of employee recognition. You can begin by introducing practices like announcing the 'employee of the month' every month.
Around these awards, there can also be little celebrations and felicitation activities to recognize the awardees in front of their peers. It will do a world of good to their confidence and they will commit greater loyalty and allegiance to the organization. They will be happy to know that the organization values their commitment and contributions. You have to keep in mind that recognition will always be among the most effective ideas to engage employees at work.
9. Curate rewarding challenges for employees
As revealed in the findings of a Korn Ferry Survey, around 33 percent of employees disengage from work because of boredom and a lack of workplace challenges. Having said that, you should curate interesting challenges for your employees that come with rewards. These challenges can be both work-related and otherwise. The more you challenge your employees the greater will be the prospects of engaging them actively. People with potential love to have challenges thrown at them, isn't it?
So, you can plan some thoughtful challenging activities for your employees. You can do that in multifarious ways. This challenge can be in terms of meeting a sales target or converting a certain number of leads in a stipulated time. Or you can challenge your marketing team to brainstorm and submit new marketing ideas within two days. All of these challenges will have great scope for team building and employee engagement.
10. Create leadership opportunities
Employees start to disengage when they begin to feel that they do not have more to offer. This thought starts fiddling with their psychology and they start being complacent. Needless to say, you do not want such attitudes to prevail in your employees. Having said that, creating enough voluntary leadership opportunities for employees can be an intriguing way to boost employee engagement.
You can extend to your employees the chance to lead projects, lead the corporate social responsibilities of the company, or lead the planning of the annual party. Irrespective of how big or small a given leadership role is, stepping into the shoes of a leader will help employees assume greater responsibility. This sense of responsibility and self-worth associated with leadership roles will drive greater and more active engagement
11. Organize regular health camps in the workplace
The COVID-19 pandemic has made all of us learn the significance and value of wellness the harder way. The pandemic has made employees worried about their well-being and now, they expect their employers to promote the idea of wellness in the workplace. Almost all employees want their organizations to support their health and wellness. For that, organizing regular health check-up camps for basic health checks can be an outside-the-box idea for engaging employees.
It has been seen that a lot of business organizations have also been conducting COVID-19 vaccination drives for their employees. Employees will be able to develop overwhelming gratitude for their employers knowing that their health is being prioritized. In fact, in addition to these camps, businesses can also organize workshops on work-life balance and mental health for employees.
12. Engage employees with weekly pizza parties
You call it a pizza party or a TGIF lunch or anything that you may like to call it. These weekly get-togethers in the workplace can lay a great foundation for employee engagement and team building. Your employees would love to bond with each other and have interactions over their favorite food. In fact, every week can be a new theme based on a new cuisine! Also, there can be a color theme associated with each weekly party, and all employees can be asked to adhere to it for their attire on that particular day.
This will promote a homogenous vibe among employees and will facilitate great relationships. Moreover, it will establish a vibrant and progressive workplace culture that will keep attracting new talents. You will be amazed to know that good and dynamic workplace cultures can amplify the revenues by 4 times! Did you know that? Even if you did not, it is never too late to start investing in your company's culture.
In-person employee engagement activities for diverse teams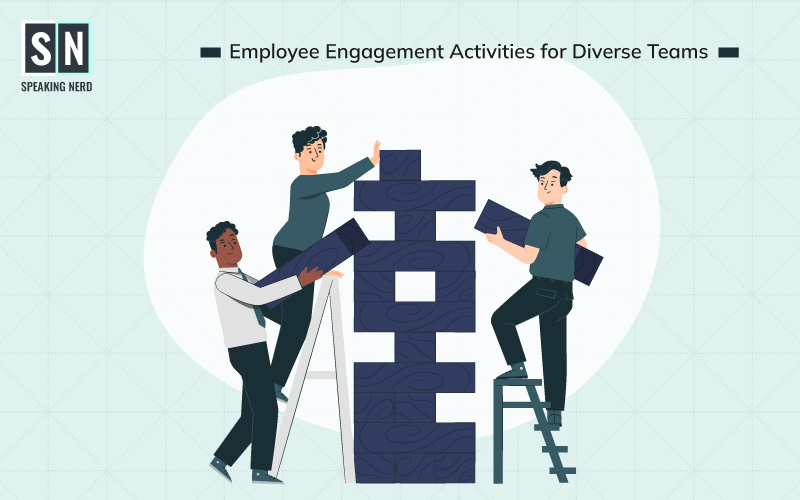 Workplace diversity is a thriving trend in the modern corporate world driven by globalization and organizations love the idea of having employees that add diverse perspectives. However, engaging a diverse team can be slightly tricky. The following activities can surely help.
1. Celebrate each dimension of diversity with great zest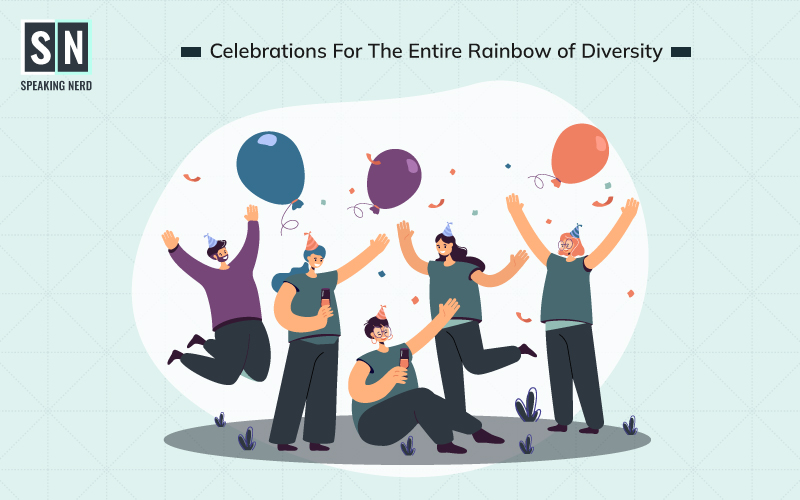 When you have a diverse workforce, celebrating diversity becomes indispensable to ensure high engagement. Having said that, you should celebrate each dimension of diversity in the workplace. You should celebrate or at least observe all occasions or special days that are important for your employees. For instance, even if one of your employees is a Muslim, you should celebrate Eid in the workplace or at least wish the employee personally. Moreover, you can send a greeting card to the employee with a small hamper to add to their happiness. Similarly, celebrating and observing Gay Pride Month in the office will be a great boost for engagement levels.
This will promote great enthusiasm in your employees along with a sense of belonging. Who would not love to see others be a part of their special days? It will not be practically possible to have an off day for every festival but observing every local or regional festival of your employees is quite feasible. These celebrations can prove to be invaluable in terms of team engagement ideas.
2. Organize potluck lunch parties
Potluck lunch parties will be a perfect opportunity for employees to introduce their colleagues to their cultures and traditional dishes. Employees can be asked to prepare their traditional dishes for the potluck party. For sure, employees would love to have new cuisines they were not aware of and a potluck lunch will trigger a great fusion of cultures and traditions. Every time there is a potluck party in the office, diversity will be an overwhelming emotion.
Getting to know people through their traditional dishes is a great idea! Food has always been one of the best ways to bring people together and build strong relationships. Having said that, if your workforce is quite diverse, one potluck lunch every month can be a good idea for engagement.
3. Give employees the platform to express their creative talents
Employees who belong to socially or culturally vulnerable groups may feel a lot of reluctance in expressing themselves in the workplace fearing discrimination or bullying. However, till the time they do not feel liberated to express themselves, their involvement and engagement will remain low. So, to help them express themselves, you need to give your employees the opportunity to showcase their creative talents. You can have performances from your employees at annual parties of the organization or other events.
When they portray their creative talents alone or in collaboration with others and receive warm accolades from their co-workers, they will feel far more optimistic. Also, they will begin to believe that they belong in the workplace and their colleagues are quite appreciative of their diverse identities. Furthermore, in addition to greater confidence in employees from maligned groups, these talent hunts will also foster positive team-building and collaboration. As you very well know, relationships and collaboration are salient to high employee engagement.
4. Hold quizzes and discussions on diversity
To promote better familiarity and respectfulness in employees for all forms of diversity, holding quizzes and discussions on diversity can be a great idea. These quizzes and discussions will give employees the impression that the organization loves to talk about diversity. So, there can be various quizzes on cultures, cultural festivals, languages, history, and so on.
On similar lines, there can be worthwhile discussions on gender neutrality, gender roles, LGBT rights, millennial interests, and so on spanning all dimensions of diversity. Employees will love to know each others' perspectives on diversity and discuss it with each other. Seeing their co-workers have positive perceptions of diversity, employees belonging to vulnerable groups will feel at ease and engage more actively in the workplace. It is important to help them overcome their apprehensions to engage them. Discussions on diversity will make them feel more comfortable for sure.
5. Construct diverse teams
For a diverse workforce to remain collectively engaged, it is imperative that employees overcome their differences and blend together as a healthy team. So, whenever you plan sporting events, indoor team games, or other prospects of team activities, make diverse teams. Make teams such that they represent identical proportions of genders, social and cultural backgrounds, and experiences. The basic idea is to create heterogeneous teams to inspire homogeneous sentiments among them.
In this way, employees will be able to create comfort around each other. Moreover, this improvisation in team configuration will help employees to blur the lines of differentiation and make working relationships that are free from any forms of discrimination. The employees will be happy to carry these working relationships into projects and produce great outcomes as a team.
6. Tree plantation drives
Bringing people from different backgrounds and cultures to care for the environment can be a great idea. When people from diverse socio-cultural backgrounds come together to fight climate change and promote sustainable practices, they will also learn to care for each other. In fact, organizing tree plantation drives can be beneficial in two ways. Primarily, they can be great team-building activities bringing different employees together for a common purpose.
Moreover, with tree plantation drives, businesses can discharge their corporate social responsibilities in an effective way and contribute to the environment for the collective good. As said above, in the pursuit of building sensitivity for the environment, employees will also be more sensitive towards each other hence fostering cordial relationships among them. On the foundation of these amicable relationships, empires of high employee engagement can stand tall.
In-person employee engagement activities for new employees
The sooner your new recruits blend in the work environment and align their goals with the organizational objectives, the better it is for the business. The following activities or practices can help a great deal in engaging new recruits from the word go.
1. Welcome the new recruit personally with a welcome card
You can start a little customary practice of personally welcoming your new recruits with flowers or a welcome card. This will make them feel welcomed and will spark a sense of belonging in them from their early days. In case you are not present in the office on the joining date of a new recruit, you can drop them a good luck mail and assure them that you will catch up with them at the earliest possibility.
There is every reason why your employee engagement ideas should have a different set of best practices to engage newcomers. You want your new employees to align their career goals with the advancement of the organization as soon as possible. So, you ought to engage them actively right from their onboarding.
2. Have lunch with your new recruits
A new recruit walking into the office on the first day will be nervous and will have little knowledge of the company's vision and mission. However, to engage a new recruit in an active way from the first day itself, it is important that the organization's vision and goals are shared with them. Therefore, if you or other seniors in the top management can have some easy-going discussions with them over lunch, it will be a great idea.
You can sit with them for lunch or take them out for lunch depending on what is more feasible. During lunch, you can discuss the company's goals and ambitions with them in a conducive way. Moreover, you can also inspire in them the confidence that they can reach out to you if ever needed. This will make them feel comfortable, blend in the work environment briskly and align with the company's interests right from the beginning. In the ultimate sense, all of these factors will contribute to active engagement.
3. Introduce new recruits to their team members
Introducing a new recruit to their team members and reporting managers on the very first day will give a systematic beginning to things. The HR managers can host a small session dedicated to the introduction of new recruits with their respective team members and managers. This session should also have room for some basic discussions between new recruits and their team members.
The newcomers can share their expertise and previous experience with their team members. Simultaneously, team members can share their backgrounds in brief and their roles in the team with the new recruit. This will create a perfect headstart for team members to bond with each other and the establishment of active engagement in new employees.
Virtual employee engagement ideas for remote teams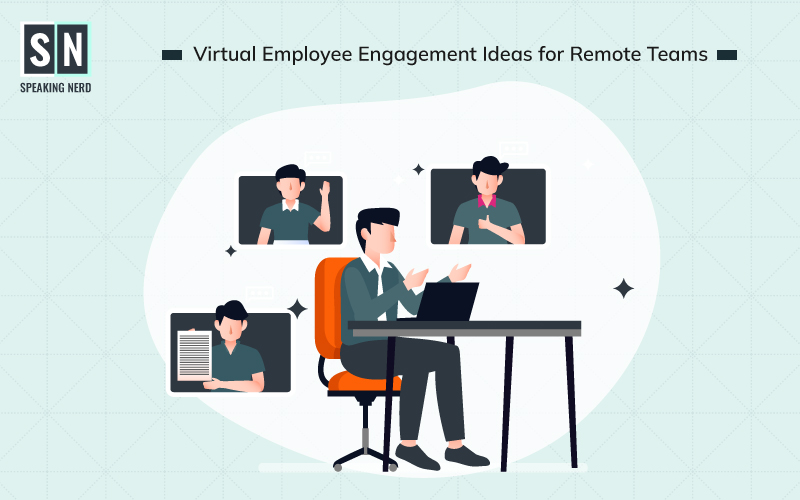 The corporate world is witnessing some overwhelming paradigm shifts and it is quite evident that telecommuting is the future of work. As cited by Owl Labs, 16 percent of the global business organizations have gone completely remote. To add, as per Forbes, 70 percent of the global workforce will be working remotely by 2025. Given the fact that remote work and hybrid cultures will dominate the future, it is essential that organizations think about worthwhile virtual employee engagement ideas as well. Listed below are some of the most fascinating and result-oriented virtual engagement activities.
1. Morning yoga and Zumba sessions
Remote workers have their own share of stressors and issues that may digress them from the path of active engagement. Besides, a lot of remote workers face issues like digital fatigue and lack of emotional support from their co-workers and managers in the absence of in-person conversations. All of these factors can hamper their mental health as well as engagement. Having said that, conducting online yoga, fitness, aerobic, or Zumba classes in the morning for an hour or so before office hours can be a great idea to promote fitness and mindfulness in employees.
This can be an everyday activity that can be optional for employees rather than being mandatory. Those who are looking for effective ways for stress management and to look after their well-being and optimism will certainly be interested. These virtual employee engagement activities will keep your employees productive and ensure that they start their day on a strong note.
2. Virtual coffee breaks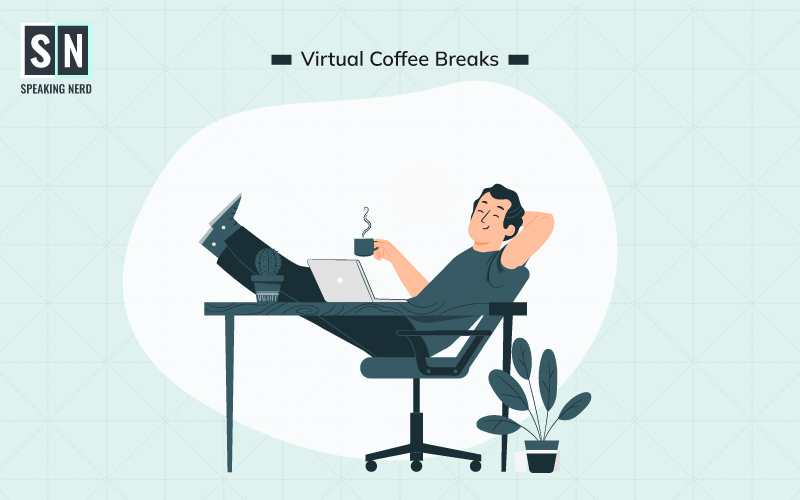 Virtual coffee breaks will be an ideal remote activity for employees to take a break from work and have some lighthearted discussions. Even if these breaks are for let's say ten or fifteen minutes, everyone in the team taking a break at the same time and having some happy conversations will act as a great stress buster.
Moreover, employees can get to know each other better during the virtual interactions in these breaks. It is quite possible that some employees joined your organization during the lockdown via virtual recruiting. This means they have never had a real interaction with their team members and paper groups in the office. These virtual coffee breaks can be an amazing idea to bridge the disconnect between employees and break the ice. Having said that, this culture of virtual coffee breaks should definitely be on your list of virtual employee engagement ideas.
3. Weekend Netflix Party
Everyone loves watching movies, isn't it? In fact, the OTT platforms have been bliss for people in the lockdowns triggered by the COVID-19 pandemic. So, how about hosting virtual movie nights for your team members? The idea of everyone watching the same movie virtually with others seems great, isn't it? Now, the question is how can you hold a great Saturday Netflix party or a virtual movie night.
You can host a virtual movie night using Netflix Party which is an amazing and absolutely free browser extension. Using this extension, a maximum of 50 people can connect with each other to watch the same movie virtually. The extension also has features like synchronized fast forward and rewind features. Besides, it also enables text chatting between people watching a movie or web series together. This means that your team members can text each other while watching the movie or web series to have casual discussions about the content or other things.
4. Internal newsletters
Transparency is a key determinant for cultivating high employee engagement. A large proportion of employees feel that their organizations do not share enough information with them. This is one of the major reasons why employees get disengaged from work in the due course of time. To substantiate, as per Forbes, more than 50 percent of workers feel that their organizations hold back from being transparent. Besides, maintaining transparency and keeping employees updated becomes more complex in remote working as there is a certain disconnect.
However, this can be overcome with digital internal newsletters published fortnightly or monthly. These internal newsletters can enhance communication and provide employees with the latest updates and news related to the company hence promoting greater coherence and engagement among employees. These newsletters will help in bridging the disconnect and foster greater allegiance for the company among employees.
5. Online corporate games
Gamification will always be a wonderful idea to engage remote employees and give them an opportunity to manage their work stress effectively. You can choose from a host of online corporate games and activities like intriguing puzzles, brainstorming games, photo challenges, video charades, and so on to engage employees in exciting and ecstatic challenges and games.
This will also have a great scope for new employees to mix up with their co-workers and seniors in an environment far away from the discussions on deadlines, projects, and quarterly targets. One can choose from a wide spectrum of solo or team games and activities for teams to foster positivity among employees and hence engage them actively.
6. Having themed workdays
This can be another astonishing and out-of-the-box idea to engage remote teams. One day in a week can be celebrated as a theme day where all employees are asked to follow a certain theme. For instance, employees can be asked to dress as their favorite superheroes or introduce their pets to everyone virtually. Some more ideas of themed work days can include working from an outdoor location in the lap of nature or simply turning up in the nightdress for virtual meetings so that everyone feels comfortable and relaxed.
Themed workdays as suggested above can be stupendous ideas to engage employees at work. Such events or activities will ensure that your remote employees do not feel disconnected and isolated. With amazing and creative themed days, you can promote deep connections between them and have them engaged actively at all times.
7. Talent faceoffs
Let some Zoom meetings be for your employees to showcase their various creative talents or compete with other employees for a talent faceoff. Sounds great fun, doesn't it? For sure, there would be some great singers, dancers, poets, stand-up comedians, and storytellers in your team. Give them an opportunity weekly or fortnightly to exhibit their talents and absorb some work pressure from others with stellar and heart-winning performances.
These talent faceoffs will promote healthy competition among team members and every performance will be a delight for others to watch. In fact, as a business leader, you would love to explore how talented and creative your people are! Also, when employees begin to express themselves through their art and expressions, they will feel more confident to communicate with their co-workers and express themselves at work. Moreover, there can be small rewards for the winners and you can let your employees decide the winners via voting. In this way, the participants, as well as the non-participants, will remain engaged and involved.
8. Webinars on mental wellness and EQ
Mental wellness is a key concern for employees in this epoch of massive digitalization and competitiveness. In fact, remote workers may find themselves more vulnerable to burnout due to isolation and lack of in-person social interactions. Of course, if employees start to feel that they are facing burnout situations, disengagement will become inevitable. Hence, organizations can host webinars on mental well-being or meditation session for their employees. Organizations can invite psychologists to discuss mental health with employees and recommend best practices to them for keeping their mental state positive. Also, employees will be able to discuss their mental health issues and negative emotions with experts and find answers to their stress that they may be seeking for a long while.
Along similar lines, there can be webinars for employees to train them for EQ or emotional intelligence. These webinars can be conducted by emotional intelligence trainers and coaches invited by organizations. By learning emotional intelligence, employees can learn to manage and control their emotions in a positive way. Hence, by mastering EQ, employees can improve their communication proficiency, motivation, conflict resolution skills, and problem-solving abilities. With effective guidance on mental health and EQ, employees will be able to tame their negativity and bring out the best productivity in them.
9. Shout-outs on social media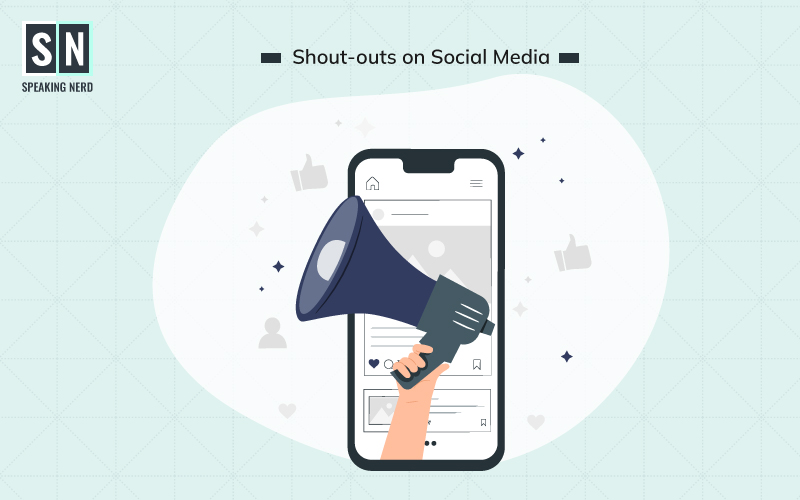 Irrespective of the fact whether employees are working in a traditional workplace or a remote work environment, recognition will always be a key determinant for employee engagement. Everyone loves receiving their employers' and managers' appreciation in front of their colleagues and it adds massive value to their motivation and commitment. But how can you extend such warm recognition to your employees in a remote working environment?
You can make the most of the charm of social media and appreciate your organization's achievers and top performers with heartwarming social media posts thanking them for their incredible work and extending recognition to them. When these posts will be put out from the official social media handles of the company, everyone will notice the achievers and congratulate them for the same. This profuse sentiment of appreciation will spark greater motivation and engagement among your employees. It will also set a benchmark of performance for others and they too will set goals for themselves and engage with greater zeal.
10. Surprise meals as a token of appreciation
There is hardly anyone who would not love the idea of a surprise meal delivered at their doorstep sent by their bosses. The mere thought of it seems so delightful and encouraging! As a token of appreciation and recognition, you can order surprise meals for your employees who brought glory to the organization recently. This pleasant surprise will make them feel emotionally inclined to their organizations and employers which will further drive greater engagement.
With these little gestures, you can make your employees feel valued and express gratitude. They will feel inspired and overwhelmed to know that the organization values their diligence and relentless efforts. Moreover, the idea that the organization loves to surprise their employees even in a remote working environment will create a positive and cohesive company culture which is the foundation of employee loyalty, retention, and engagement. Therefore, this idea of sending surprise meals is among the most thoughtful employee engagement idea for remote teams.
11. Monday Pep Talks
Monday blues are often hard to overcome for employees and they often find themselves struggling to gather motivation on a Monday morning. Here, you can be a little creative and have an outside-the-box idea in place to engage employees actively after a lazy weekend. The day can be started with pep talks or Ted Like talks prepared by employees. They can prepare a 20 to 30-minute pep talk for their co-workers to talk about experiences, motivation, leadership, creativity, or anything that they may want to talk about as long as it has a learning and motivating element.
Every Monday, a different employee should step ahead to deliver a fruitful pep talk and that can do wonders to engage your remote team. Also, this opportunity to deliver a talk in front of the top management and colleagues will be attractive for millennials and Gen Z workers to create a good rapport with others and prove their mettle. Not only will these Ted-style talks mark a perfect beginning for a Monday morning but will also engage employees actively by giving them a platform to express themselves.
Virtual employee engagement activities for diverse remote teams
Today, diversity and inclusion have become an important part of the world of business. Having a diverse workforce is extremely beneficial. It makes your organization achieve a unique place in the market, brings in innovation, increases profits and the list goes on. But, to reap these benefits of having a diverse workforce, engaging your diverse team is a must. Further, the already complex task of engaging a diverse team becomes all the more complex in the prevalence of remote working. Following are some activities that can help you accomplish success in this complex task.
1. Organize virtual celebrations for the entire rainbow of diversity
Celebrations add beauty to life, colors to the soul, and bring people together. When your organization enjoys the presence of a diverse team, you should celebrate the entire rainbow of diverse festivals and events through virtual celebrations. For example, if you have an employee who belongs to the LGBTIQ community, you should organize a virtual pride parade. Such events can not only make the employees belonging to their respective communities feel special and valued but they can also bind everyone together in a thread of love.
Moreover, you can also keep the celebration a secret from the concerned employees and surprise them on their special days. Such arrangements will definitely help you engage your diverse remote team. After all, there is nothing more wonderful than being celebrated for who you are and your unique preferences.
2. Storytelling competitions
Every culture has some stories associated with its own cultural dimensions. Some are real-life and some are mythological. But, whether real-life stories or mythological, they have the power to connect hearts, provide people an opportunity to express themselves, and introduce others to their culture. If you provide your employees the opportunity to express themselves through storytelling, they'll feel safe, free, and belong to your organization. These things will strengthen their emotional connection with your company and lead them to engagement
Moreover, employees often need a break from the similar work routine that they have to follow every day. They need an element of excitement to color their work-life and boost their productivity. Storytelling competitions can provide them with exactly that. So, you should try to conduct virtual storytelling competitions to boost engagement in your diverse team and provide your workers with a refreshing break. To make the competition even more interesting, you can ask your employees to create some stories that are similar to their cultural stories and tell them during the competition.
3. Dedicate at least one day in a month to cultural attires
Different communities have different attires which they prefer or consider sacred and use to represent themselves. For example, some Muslims cover their head with a full head covering known as a hijab and others wear 'kufi' a cap that covers their skull. By showing your respect for these cultural attires, you can make your diverse workforce feel appreciated which will boost their engagement at work.
For this, you can dedicate at least one day in a month to cultural attire. On this day, everyone has to wear clothes that represent their background and tell stories related to their cultures and traditions via video conferencing.
4. Hold virtual D&I movie nights
Who doesn't like watching movies? After all, movies are a great source of entertainment and help the mind relax. If you wonder why we are discussing movies here? The answer is that movies can help you engage your diverse remote workforce. Are you wondering how? Movies, especially those on the theme of diversity can bind your employees together and good employee relationships act as a key to enhance engagement.
So, you should try to hold virtual D&I movie nights. Wonder, Akeelah & The Bee, Hale, and The Old Guard are some examples of movies on the theme of diversity and inclusion. To watch these movies with your remote workforce, you can either use Netflix Party as discussed earlier or use other platforms like Kast and Kosmi. These platforms can help you all watch movies and enjoy together. After watching a movie, you can also hold discussions and ask your employees about the things that they learned from it.
5. Host book clubs on themes centered around diversity and inclusion
Just like books let you travel without moving your feet, they also help you learn without actually experiencing things. You can read books and learn from the experiences of others. The same is true for your employees. By reading books on the theme of diversity and inclusion, they can learn to respect people from diverse backgrounds. As this happens, your organization's work culture will improve along with employee relationships. With improvements in both these areas, employee engagement is bound to enhance.
So, you should try to read common books with your employees and host book clubs centered around diversity and inclusion. So if you want to talk about race, The Memo: What Women of Color Need to Know, The Hate U Give, and Between the World and Me are some great books on diversity that you can read along with your remote workforce. You can all read some pages of the chosen book within a fixed duration of time and then, conduct a discussion session once a week.
Virtual employee engagement activities for new recruits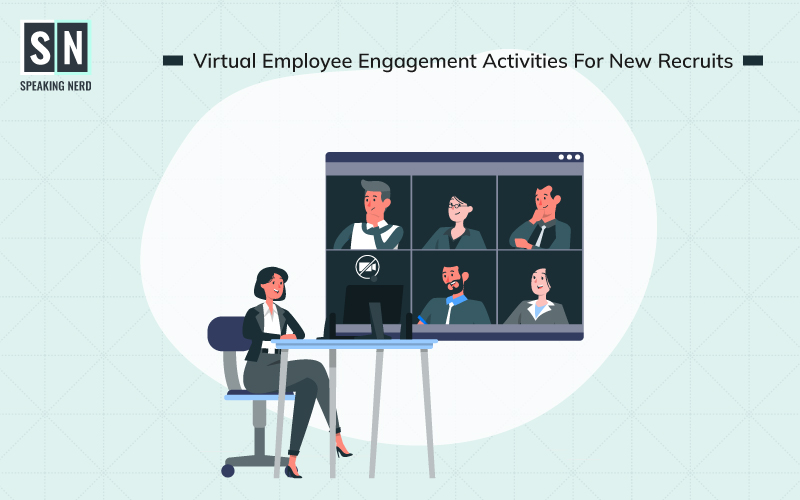 Engaging new recruits is extremely important. If you engage your new employees right from the beginning, you can set the threshold for them to give their best performance each and every day. As engaging new remote employees can be a little challenging, the following virtual employee engagement activities can make it simpler for you.
1. Welcome emails
Whenever a new employee joins a remote organization or a remote team, welcome mails from the CEO as well as other top executives including the employee's reporting manager can do wonders to inspire great confidence and belonging in the employee. Initially, every employee is nervous and this nervousness takes time to settle down. In the meantime alongside this nervousness, engagement remains low.
However, welcome emails and wishes from top executives can help an employee overcome nervousness and reluctance easily. Moreover, these welcome mails will lay the foundation for amicable working relationships between newcomers and the top management of the organization. In the email, executives can mention that the new recruits can reach out to them for any assistance. This little reassurance and support would mean so much to new recruits hence facilitating active engagement from the word go.
2. Virtual office tours
Employee engagement is the extent of emotional connection employees feel towards their workplace. You can help your new employees develop a strong emotional connection with your organization by taking them on a virtual office tour. For this, you just have to organize a virtual orientation for your employees during which you can show them the entire company premises, equipment, and other related things via video conferencing.
Moreover, you can also tell them about the history of your organization, emphasize the mission and vision of your company and convey your expectations. This will help you connect with your employees and lead them on the path of engagement. In case the organization has completely gone remote, a virtual team introduction can be organized in place of an office tour.
3. Sending a welcome gift
You can send flowers or meals to your new employees through the HR department to make onboarding a pleasant experience for your new remote employees. Such small gestures can have a huge impact on a fresher's psychology to make a more positive and flamboyant start to their new job roles.
This can be added as a standard in the culture of the organization. Whenever a new employee begins their journey in the organization, a welcome gift can be sent to them in the form of a parcel or an e-voucher in case a new remote employee belongs to a different country.
4. Social media posts to congratulate new employees
Congratulating new employees with heartfelt posts on social media along with their pictures can turn out to be a great employee engagement idea. Your new employees will feel delighted to find a mention on the organization's official social media handles. Also, other employees will stay updated about the new inclusions in the organization in this way.
This again can become a customary employee engagement activity to create great onboarding experiences and foster high engagement in newcomers. Post their pictures on the company's social media profiles and have them accompanied with welcome messages on behalf of the entire organization. In this way, they will be able to find the right motivation and optimism from the very first day.
To encapsulate, the central idea of all employee engagement activities is to make employees feel valued, appreciated, and comfortable in the work environment be it physical or virtual. Moreover, the virtues of collaboration, communication, and trust are salient to the cause of employee engagement and hence team engagement ideas and virtual team engagement activities have to be at the forefront of an organization's outlook on employee engagement. The above employee engagement ideas and team-building activities are in line with all the prerequisites and for sure they can prove to be highly beneficial for driving high engagement and hence organizational growth.